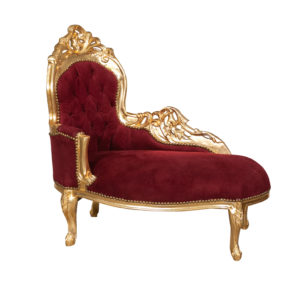 In style, design, comfort and elegance, the Pauline armchair compensates for and reflects a French style belonging to Louis XVI.
The peculiarity of the carving in solid beech makes this armchair a "diva" charm.
Yes.. We can define the armchair/Pauline sofa The Queen of refinement and comfort.
The care of the details that overlap each other from the four "Tronchetti" of shaped and carved beech that support the seat carefully padded, to the raised part of a back skilfully quilted to enhance the elegance and comfort Completed by a red velvet fabric with the combination of a gold leaf finish to embellish every detail, an inlay and small traces of "gouge" that the skilled craftsman wanted to donate to the armchair as if it were a jewel to be preserved.
Even its measures are the ultimate expression of a charm and "solidity", unique in its kind.
Let yourself be quietly  "seduce": The Armchair  "Pauline " will be able to wrap in its comfort for moments of relaxation, to read a book or to listen to the "good" music, giving also to your furnishing a touch of incomparable beauty.