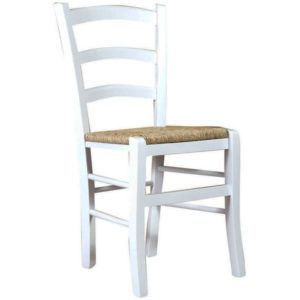 Solid beech wood chair with varnished finishing and straw seat, fully Made in Italy
Nowadays we can find chairs in different and various design and materials and so it is easy to think to a chair!
The chair that we would like to introduce you  is made by talented artisans, the so called "seggiolai", as, fortunately, we still have people able to realize seats full of details, like in the past.  A chair can be used  to dine, to have a rest or a break and a conversation with friends.
Our chair is practical, easy and elegant so it suits in a private house,  in a restaurant, or a wine bar, it is also very comfortable thanks to the seat shape and the material, warm in winter and cool in summer.
Even today the chair is fully Made in Italy, of solid beech wood with white varnished finishing with non-toxic and eco-friendly natural products. The item has the same features and details as in the past, the chiselling, the perforating and the loops allow a perfect gain that together with a perfect glueing give stability, toughness and elegance , without any nuts or bolts.
The straw seat is another important feature of the chair, made of a natural original products by chairs artisans. The chair is a great idea, a simple and cheap way to sit!
Please visit our website, to discover many other creations and special offers.