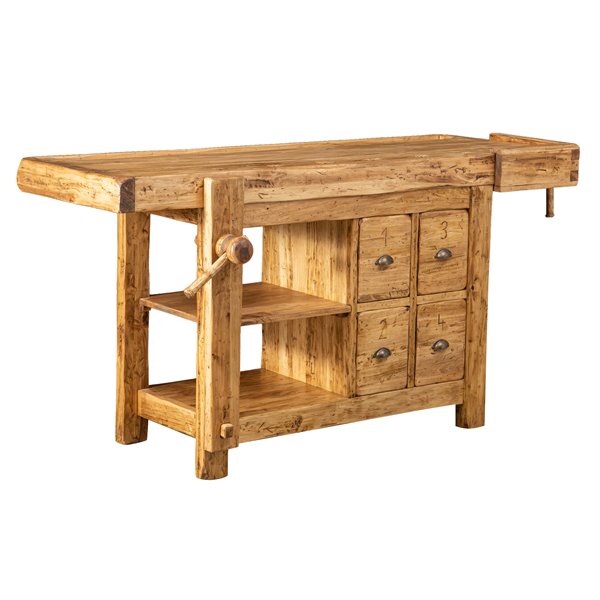 The workbench as a piece of furniture
This prestigious workbench used in old carpentry shops can now be brought back to live and furnish any contemporary interior. Thanks to the wise and dedicated manufacturing of master carpenters, with their age-old intuition and know-how, this workbench is able to transmit the scents and visions of the wood chips that fall from the tip of a chisel as it perfects the contours of a true work of art, bringing out the very best in the wood and the originality of what is truly Made in Italy.
The workbench is a faithful replica of an old and traditional carpenter's bench, made of hand-planed solid wood. Four drawers with dovetail joints and brass handles, two functioning clamps with wood screws, a versatile and one-of-a-kind worktop, and a unique built-in case make this piece an element of design that strikes you by it's originality and solidity.
Worthy of note are the details and finishings done with non-toxic products that are natural and water-based.
For those looking for a country-style workbench, for those who want to decorate their homes with a versatile style, for those looking for a "talking piece" for their kitchen, this workbench is an ideal piece to "complete" any interior.
Biscottini offers a wide array of elements for interior and exterior design. Visit our website and discover the world of Biscottini, where style, elegance and selection are the very best… as are our prices.