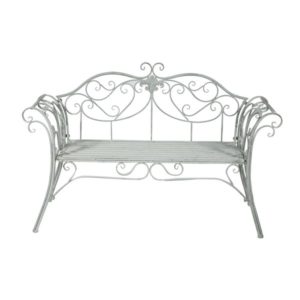 Today we live in a world that we can define as "frenetic": everything goes fast, all of us have a thousand things to do and program, some say it is the fault of computers, but in fact we have become a "robot " people.
Going around you see people who seem to talk to themselves… In fact they are in telephone connection with other people who are in who knows what parts of the world, always running in search of pleasures, or of new emotions.
In fact, if everyone was thinking about slowing down his race, he would realize that the beautiful things "already " are around him.
Look at this wonderful creative idea that skilled iron craftsmen have been able to accomplish.
We could call it a work of art all cured in the small details, a "design" in provencal style that adapts elegantly in any environment, both indoors and outdoors.
This bench or small sofa with a large size L133xPRxH90cm, completely in wrought iron, is rich in finishes and soft bends that have the task of completing the comfort of sitting and at the same time embellishing the whole structure with a " Robustness  "Indelible over time.
Imagine it at home or in the garden, its antiqued grey finish adapts to any type of furniture and thanks to ecological and anti-allergic products will not require great maintenance.
The functionality and comfort will be a real guarantee after a day of intense work for a comfortable pleasure of "relax".