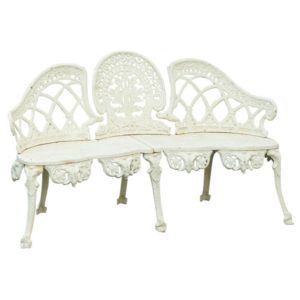 Cast iron liberty bench
The ambition to have a home, a place to live, a meeting point where a family is born and formed, the pleasure, the safety, the taste of feeling in a place shared by everyone, to be together, to love and to appreciate all that a house can give. But when around a house there is a space called  "Garden", here you add emotions to live and share in the open air.
Small or large it is, even in the garden everything must be nice, practical, functional, but above all must require little maintenance.
For this reason the BISCOTTINI ART TRADING has decided to make available a very interesting article, based on its durability, practicality, elegance, robustness and stability.
This "Bench" made of cast iron antiqued Liberty style, since it measures    L 130 x PR 50 x H 82 cm gives to all those who will have the pleasure of sitting a very valid comfort.
Not to underestimate the accuracy of the details, the meticulously crafted finish that replicates the design of the benches of the last century; Since it is absolutely handmade, it could make you discover little traces of "rust" which, however, should not alarm or annoy your choice, because it is part of a "natural rust" to make each article a a unique piece in order to furnish with elegance any external environment.