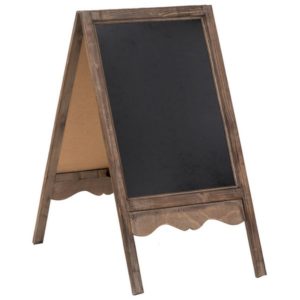 Double-sided counterblackboard
Blackboard makes you think to the past, when the board was something innovative for a school, so it became possible for teachers and professors to write and cancel a text, a math exercise or a drawing in a simple and fast way.
Our blackboard is made of wood, by talented artisans that with their unmistakable and scrupulous manufacturing assemble the materials, the wooden frames embellish and give evidence to the board. The antiqued finishing with organic, hypoallergenic and durable products maintains the scent of the wood.
The double-sided blackboard suits in a hall, a gallery, at the entrance of a shopping mall, where to put messages, promotions or however outside a bakery, a pastry, a pizzeria or a restaurant, to write in a nice way, the menu of the day.
Writing on a black surface makes an easier reading! The double-sided counterboard with wooden frame, is at a very convenient price, so if it meets your requirements, please contact us and discover many other shapes and models we make.
We would like to thank you for your kind attention.