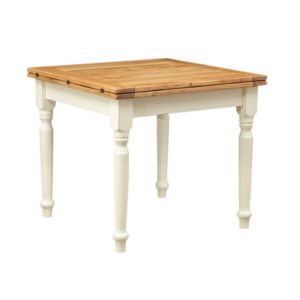 Extensible country table made in italy
When we talk about tables it is easy to imagine a table covered by an elegant tablecloth completed by a device that will satisfy all the expectations of the immediate culinary art.
But it is important to evaluate and pay attention to the entire realization of the table before you even think about how it will be completed.
First of all this table has a very pleasant and elegant appearance: it has a square shape L 90 x PR 90 x H 80 cm convertible with great ease up to a dimension of L 180 x PR 90 cm.
Pay close attention to the four legs of solid Linden Wood turned in order to make them graceful and elegant, and the particular angular interlocking inlaid in the wood with an addition of an iron structure and a wooden "ruler" to allow to achieve a result of great stability and robustness.
The base is certainly the most convincing part as it expresses all the supremacy of an artisan workmanship that highlights all the beauty of solid lime wood.
Like many other articles, this table is also our production, its antiqued white structure is treated with non-toxic products, the base has a transparent and natural treatment that highlights all the characteristics of the wood.
Thanks to three hinges embedded in the wood and two iron guides underneath, the base is transformed with a simple "book" opening in a table of great respect with a length of 180 cm.
The use of this table has no limits: it allows to donate space with country style in every environment both private and commercial.
Try to imagine it in your kitchen, or in a pizzeria, in a wine shop, in a brewery or in any environment you want to expose it, will always guarantee solidity, prestige, elegance, craftsmanship and all the experience of Made in Italy.
Always browse the www.biscottini.it online catalogue and discover thousands of furnishing articles, but above all beware of the amazing offers that every day are thought and made available to guarantee you the best possible bargains with the quality and seriousness of always, because the motto BISCOTTINI is: SATISFY YOUR EARNINGS… TO KEEP HIS OWN.