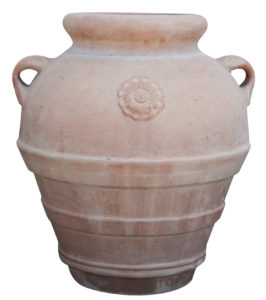 TUSCAN TERRACOTTA ORCIO
The history and art of the past today allow us to live the present to the fullest and prepare us for the pleasure of a future.
This Tuscan orcio handmade with Tuscan terracotta by skilled artisans who have been able to acquire and reflect with great skill all the characteristics of the past, is a unique article, important and that lends itself very well to furnish an interior or exterior.
Even today the production and cooking follow the old traditions of the past: the quality of the Tuscan terracotta, the manual processing and the cooking offer a pleasant, elegant and long-lasting image thanks to the "maniacal" research that has allowed to discover a clay containing an anti-gelive material that can reset its fragility and ensure this wonderful orcinto temperatures with more than 20 degrees below zero.
Unique pieces, since being made individually, it is possible to have only similar copies that even more "thank you" your environment making it more prestigious.
In the past the orcio was very used for the preservation of oil, in old peasant dwellings, on farms, small or large "orci" played an important role, while today it can certainly give a beautiful, refined and elegant image to any kind of space, maybe try to imagine flowers lying inside a circular vase and placed at the top of the orcio: SPETTACOLO !!!
In the vast online catalog BISCOTTINI you will find a truly incredible and unmissable assortment with many solutions, to furnish the house, small or large spaces such as the exterior of a farmhouse, a garden, a large park, or "beautifying" with grace, sophistication and perfectly in "theme" the interior or exterior of a cellar.
The shape, the particular finishes of the circular "bands" that embellish and reinforce the entire circumference of the orcio, the curious "ears" that serve as a reference for small movements, or the spectacular "margherita" reported in the at the top, also made by skilled craftsmen who magically embellish this particular piece of furniture, offering yourself, guests and especially your environment a pleasure to live.