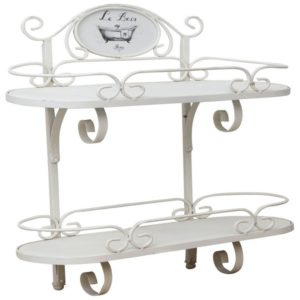 The world of furniture in recent years has evolved more and more, has ignited the interest of many "design " that in a stylistic way have been able to reinvent the style and creativity in the furnishing sector.
The public has grown the awareness of enriching their furnishings with the addition of "furnishing accessories" to give a touch of originality and "class" to their home.
Inside every kitchen, a living room, a bedroom, a attic, an entrance, a bathroom, we find realizations of "complements" that finish and personalize their "habitat ".
The piece that we present today is a furnishing complement made of wrought iron with a SHABBY finish measure L 52 x PR 21.5 x H 63 cm and adapts in a practical and functional way inside any bathroom.
Skilled craftsmen still realize on behalf of BISCOTTINI ART TRADING accessories that enrich with such originality your small or large bathroom.
Look at the elegance, the style, the workmanship made with different types of iron materials, notice the vertical structure realized with "flat" like the supports of the two shelves, enriched with "curls", the great work always in wrought iron with "Tondino" materials also with "curls" and small weld points that complete the extraordinary elegance and robustness.
The two plates that serve as the "oval" shelf, complete with edging and also the oval always in sheet, also showing a "decoration" embedded inside a rich frame made always of wrought iron.
Nothing has been left to chance, the great masters of Iron combining commitment, patience, long-lasting materials and finishes with environmentally sustainable products will once again conquer your attention, but especially with this wall unit you will have everything in range of Hand with practicality and elegance.
Give space to your desires. Always visit the site www.biscottini.it and choose with comfort from your home the pleasure of beautifying your furnishings, complete the order, shipments are within 24 hours guaranteeing a fast and reliable service, enter the world BISCOTTINI and discover how easy it is Save!